Saturday 20-10-2012 21.43 GMT+8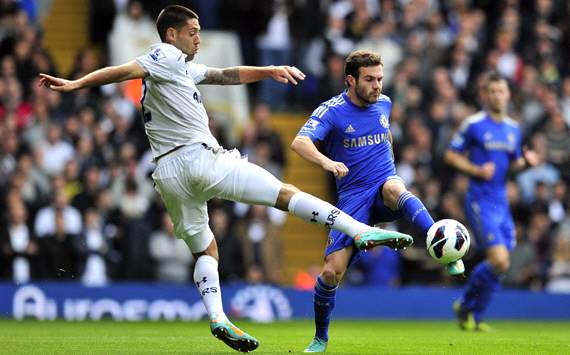 Three-point Lane is Back!! It looks so, but honestly it has been such an intensely spectacular London Derby yet again. Honestly, after 2 weeks of no Premier League action, I was so badly waiting for this game, and it didn't disappoint. And, although they never admit this, I bet AVB has that special feeling to want to beat Chelsea, but he failed. No hard feelings for him, but this was an important game, and well done to RDM, we earned a great win once again.
The line-up was pretty much as expected, although we were without JT, and Lampard was also on the bench.The armband went to Cech once again, who performed excellent once again, and was key to our comeback on the night. The surprise probably was in the home side line-up, who was without Gareth Bale (Thank God), and also Dembele. Without them, their threat was limited, and certainly we looked the stronger side at the beginning.
The first half was a fine start. The atmosphere was so very lively, I can hear the crowd so loud even only watching in my laptop. We limited the home side's threat in the first half, and we looked pretty solid and confident. The goal by Gary Cahill was spectacular, smashed hard towards the goal.
The start of the second half was disappointing. We were basically asleep, and after that equalising goal, even until after the second goal by Defoe, we were panicking and the momentum was in Tottenham all the way. I just hoped that the heat died down as soon as possible. An in time it did, and it took Cech so many excellent saves to keep us in the game. And without a proper leader in the team, our boys had to lift themselves up, and amazingly they did. Juan Mata scored a proper second goal, and the third goal came in quick succession too, also by Juan Mata. The goal came by a smart series of passes by our creative attacking players. Torres had a chance, but it was a good effort nevertheless. We held the game out, and Sturridge put's the game beyond doubt, but it was the fashionable Mata who set up his goal.
Mata was once again 'Man of the Match', and I am now so very impressed by his consistent outstanding performance week in, week out. He scored two and assisted one tonight. Players can be outstanding, players can be consistent, but to be consistently outstanding is just Amazing!! Tons of credit for Juan Mata. His quick feet, smart passes, excellent through balls, is such an asset for the team. And to be able to connect with Hazard & Oscar too, the three become such a creative attacking trident for Chelsea, who by winning this game, certainly sends out a strong statement to the other clubs.
And if there were a second 'Man of the Match', it should have been Cech, who made so many unbelievable saves to keep us in the game, and to give time for the players up to front to put us back in the lead an win the game.
So, our unbeaten run continues, and AVB failed to win against his former club, and ironically, three of our goals came from his signings, and the last goal set up by one too, scored by a player once trusted so much in his era, Daniel Sturridge. No hard feelings, and hopefully we'll keep a good, friendly, competitive relationship with him. So, we extended our lead again, with our position strong at the top with 22 points out of 8 games. Next we play Shakhtar Donetsk in Ukraine in midweek for a Champions League clash. Let us hope we can bring this positive result there. #CFC