29-09-2012 22.35 GMT+8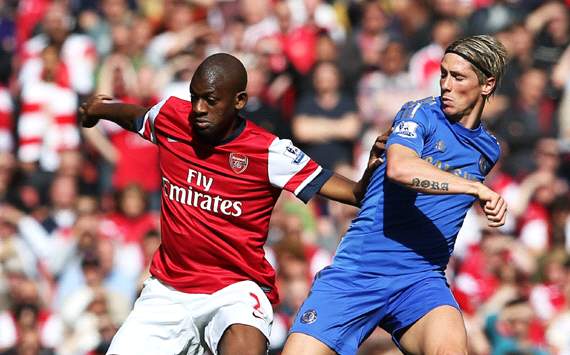 I've always liked the London Derby of Arsenal vs Chelsea. The derby is exciting, but more to the football and not to the level of emotions like the Manchester Derby, Merseyside Derby, North London Derby, or apparently, West London Derby (Chelsea vs QPR). The rivalry sensed within these two teams are pretty much football approached.
And tonight, manager RDM once again made the perfect decision, and brought us another superb result to strengthen our position in the league with 16 points, four points ahead of Manchester United, who played Tottenham Hotspur on Saturday. 3 points away in The Emirates, is a great, great result. The performance from the lads are convincing, defensively we were focused, and offensively we were quick too. A well deserved win.
The team selection was not much of a surprise. Back five was as expected, however the tactical decision tonight is to play Ramires from midfield and play new boys Hazard & Oscar alongside Mata, all playing behind Torres. It was a spot-on selection by RDM. It was an open game, and we managed to utilize the pace and skill of our players to break down Arsenal's defense; although our goals both came from set pieces.
On the earlier minutes of the first half, we were the better team, leading to a goal by Fernando Torres. A good swing in the free kick by Juan Mata, and a confused Koscielny allowed Torres the space to strike the ball to the back of the net. It was a great goal. However Arsenal started to rise and the game was very much open for the remaining of the half. Then Gervinho managed to equalize with a smashing attempt just before the interval. It was a fair result for the half.
After the break, Arsenal actually started brighter, however in the counter-attack attempt by Chelsea, Fernando was brought down, earning us another free kick. This time it was another excellent swing by Juan Mata, but without finding a player, the ball curled in into the far side of the goal (possibly with a slight touch by Koscielny), but it was an excellent curl and such a great goal by Mata. After that, the tempo of the game slowed down a bit, at least until Arsenal felt more and more the urgency to quickly find an equalizer. For the remaining of the half, Arsenal had more chances and tried to break us down, but a good performance by our defense saw us hold on until the final whistle and earn us a great away win.
Mata, earning the Man of the Match, really showed his classy skill as he always does. He is an outstanding player because he is nearly able to perform excellently, and consistently too. Torres was great tonight, earned the goal well too. Oscar and Hazard showed again what they can bring for the team. Mikel dictated the middle excellently. The back five was an experienced one, and the proved their worth with a focused and committed performance. Oh and by the way, I just saw the post-match interview, and when told that experts claimed that Mata, Hazard, and Oscar cannot play together (because it will be too open), Torres simply replied, "Who said that?" (Sums it up pretty much)
Considering it was an away game at The Emirates, winning 2 - 1 is such a great result, as we earned our well deserved 3 points. The players linked up well today, every player are committed and focused, and so we strengthen our position in the league once again. Many expected that Chelsea are in transition, well we are, but we certainly didn't look like a team in transition seeing the performance of each individual and the ability to link up between these players. A great night and a great performance, and a great win too. Now we can turn our focus to the Champions League once again, as we prepare to go to Denmark where we will visit the Danish Champions in their home ground. Hopefully, we can bring this type of performance there, to win out first UCL game this campaign. #CFC
Links:
http://www.chelseafc.com/news-article/article/2933711/title/match-report-arsenal-1-chelsea-2
http://www.goal.com/en-gb/match/80858/arsenal-fc-vs-chelsea-fc/report
http://www.goal.com/en-gb/match/80858/arsenal-fc-vs-chelsea-fc/player-ratings